Cash+, REIT+, Core, Equity100, Select. If you're thinking about investing with Syfe, you'd have come across these portfolio names on their website. How do you know which portfolio to pick? Which portfolio will give you the highest return?
We break it down for you below.
Syfe Core
Syfe Core is the general name for their core portfolio offerings. There are three that you can choose from depending on your investment goals and risk appetite. According to Syfe, these are all-in-one portfolios that are designed to be the core of your investment strategy.
Core Defensive
Time horizon: 1 – 2 years
Risk level: Relatively low
Portfolio allocation: 70% bonds, 20% stocks, 10% gold
Average annual returns: 4.93% (past 8 years)
Who it is suitable for:
If you're saving up for your wedding next year, you can use this portfolio to park your cash. The slight exposure to equities will give your money more growth potential. Alternatively, if you're a conservative investor who prefers stability, the 80% allocation to bonds and gold helps to protect your portfolio.
Core Balance
Time horizon: 3 – 5 years
Risk level: Medium
Portfolio allocation: 50% bonds, 39% stocks, 11% gold
Average annual returns: 7.35% (past 8 years)
Who it is suitable for:
Getting the keys to your BTO in the next three years? Before you create your home renovation mood board, start saving up the funds you need to make your dream home a reality. We spent almost $70K on renovations and furniture, and we hear from friends that due to labour shortages, the renovation process alone now costs $60K.
Since you'll be needing the money relatively soon, the Core Balance portfolio invests your funds fairly evenly between bonds and gold. So while you may experience some volatility if the market drops, it will be less than someone who has a higher stock exposure.
Core Growth
Time horizon: 5 years or more
Risk level: Relatively high
Portfolio allocation: 25% bonds, 70% stocks, 5% gold
Average annual returns: 11.40% (past 8 years)
Who it is suitable for:
Want higher returns but not quite ready to go all-in in equities? The Core Growth portfolio is an alternative to Syfe's popular Equity100 portfolio. With 30% exposure to bonds and gold, you get some cushion against volatility while still enjoying the potential returns from a pretty heavy stock allocation.
Equity100
Equity100 is a 100% equity portfolio with three smart beta tilts to growth, China exposure, and low volatility.
Simply put, you can expect to have growth and tech stocks like Apple, Microsoft, Facebook; and Chinese equities like Tencent, Alibaba, Meituan, Ping An Insurance. You'll also get some exposure to stocks from the utilities, consumer staples, and healthcare sectors like P&G, Coca-Cola, Pfizer, Duke Energy etc.
Time horizon: 5 years or more
Risk level: Very high
Portfolio allocation: 100% stocks
Average annual returns: 14.3% (past 10 years)
Who it is suitable for:
If you are young and are very comfortable taking risks, Equity100 may be right for you. Personally, we like this portfolio too. We started this back in August 2020 and have made a time-weighted return of 16.3%.
Of course, there were periods of significant volatility but that's only to be expected with a portfolio that's all stocks. If you choose this portfolio, be prepared to be invested for years, not months.
REIT+
This is another portfolio we love! (You can read our full review here.)
You get Singapore's 20 largest REITs in one portfolio: Ascendas REIT, CapitaLand Integrated Commercial Trust, Mapletree Industrial Trust and more. The portfolio tracks the SGX iEdge S-REIT Leaders Index.
Another cool thing? Dividends are reinvested for you by default (for free) so you get to accumulate more REIT units.
Time horizon: 5 years or more
Risk level: Medium to high
Portfolio allocation: 100% REITs
Average annual returns: 10.6% (past 5 years); 4.5% dividend yield in 2020
Who it is suitable for:
REIT+ is a great option if you don't want to pick REITs, or if you want to dollar cost average. If you buy REITs through a local broker like DBS Vickers, the commission can be $10 per transaction. Clearly, it's not practical to buy REITs every month this way.
But since REIT+ has no brokerage fees and you only pay a management fee of 0.65% p.a., you can invest in REITs weekly, monthly, quarterly, or any other timeframe you prefer!
For us, we invest in it mainly for the passive income and the convenience of just topping up funds anytime we like.
Cash+
As the name suggests, this is a cash management account. It's not meant to be a deposit account though, so don't expect the returns to be guaranteed. However, it does offer higher returns that the paltry rates we're getting from the banks.
Time horizon: At least one month
Risk level: Very low
Portfolio allocation: Lion Global's Money Market Fund, Short Duration Bond Fund, Enhanced Liquidity Fund
Projected return: 1.5% p.a.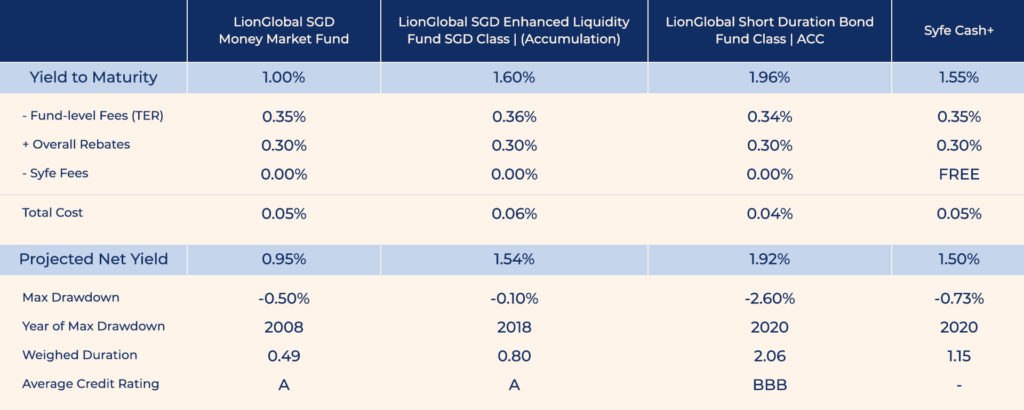 Who it is suitable for:
Pretty much anyone who is looking for better rates for their savings. There's no minimum investment and you can withdraw anytime. Unlike the other Syfe investment portfolios mentioned above, Cash+ has zero management fees. In our opinion, that's a pretty good deal for the cash savings that we don't need anytime soon.
Withdrawals do take 2 – 3 working days though, so plan in advance if you need to withdraw your money.
Our top picks
You should choose your portfolio based on your investment horizon and risk appetite. For us, we're looking to invest for the medium to long term, and have no issues with investing for 5 years or more. We're also comfortable taking investment risks and don't mind weathering market volatility for higher potential returns.
As such, we've selected the Equity100 and REIT+ portfolios. We also have some funds in Cash+ for the higher projected returns.
Your goals, risk appetite, and investment requirements may be different from ours, so consider them before you invest!
Pro tip: Syfe offers free consultations with their wealth experts. We had a session with Ritesh last year where we learned about their core satellite investing strategy and asked him a bunch a questions 🙂 He wasn't pushy or sales-y at all, which is why we ultimately decided to invest with Syfe.
If you're keen to get started too, enjoy 3 months of free investing when you use our referral code FRUGALFOX. You will get SGD $30,000 managed FREE for 3 months, so don't forget to use it if you're signing up for a Syfe account!