ARK ETFs are now the hottest thing since sliced bread – at least in the ETF world. Thanks to a meteoric performance fuelled by gains in Tesla and other disruptive tech stocks, ARK Investment Management became one of the fastest-growing fund managers of 2020.
Only six years since it was founded, ARK is now a top-10 ETF issuer in the US managing about US$34.5 billion as of end 2020. This is a 10-fold jump from 2019, when their inflows only reached US$3.1 billion.
If you haven't already invested in their ETFs, should you be adding them to your portfolio? Here's everything you need to know.
All about disruptive innovation
ARK is exclusively focused on the future, or "disruptive innovation." They see it as truly emerging technology which they have separated into five themes: DNA sequencing, energy storage, robotics, artificial intelligence and blockchain.
The company currently offers five actively managed and two passive ETFs that concentrate on these themes.
Every week, the brains at ARK, led by CEO Cathie Wood, discuss big picture ideas on what the future might hold. The ARK team then invests in these cutting-edge companies ahead of everyone else. They do so not by timing the market, but by capitalizing on the adoption curves of innovation.
For instance, ARK may find companies that have yet to show significant traction in their product adoption (phases 1 and 2), but have very high upside potential. According to ARK, they specifically select those companies that have what it takes to "cross the chasm" and go from serving early adopters to capturing the mainstream market.
As a result, investors in ARK ETFs are exposed to the high return potential that these fast-growing innovators might provide.
ARKK: Not your average growth ETF
Before ARK ETFs exploded in popularity, investors seeking rapid growth often turned to ETFs like Invesco QQQ or Vanguard Growth ETF (VUG) for exposure to large-cap growth companies such as Microsoft, Apple, and Amazon.
While traditional growth ETFs have still delivered better returns compared to the S&P 500 (the tech-heavy QQQ surged 48.6% in 2020 while the S&P 500 gained 18.4%), they were left in the dust by ARK's flagship ARK Innovation ETF (ARKK).
ARKK delivered a 153% return in 2020, largely due to its high exposure to Tesla (TSLA) and other tech names that surged over the past year. This does mean that ARKK is very heavily concentrated on a few key bets.
As of 2 February 2021, its top three holdings Tesla, Roku and Teladoc Health made up 21.64% of the fund. The portfolio itself only holds 54 securities. While the concentrated strategy has worked so far for ARKK, it also comes with more risk than a regular ETF which may hold hundreds of companies in their fund.
Still, if you're looking to only invest in one ARK ETF, ARKK is a solid choice. It is designed as the "all-inclusive" ETF that covers each of ARK's investment themes. This is why ARKK's top 10 holdings include Tesla (AI and Big Data), Crispr Therapeutics (DNA technology), Proto Labs (robotics) and Square (fintech and blockchain).
These companies may not have a significant place in traditional market-cap weighted ETFs at the moment, but have the potential to become some of the world's highest-growth companies.
Tesla for example has been a top holding of ARKK for many years. But it was only included in the S&P 500 last December, which meant that ETFs tracking the S&P 500 would have missed out on Tesla's eye-popping gains.
Don't forget ARKG, ARKW, ARKQ and ARKF
ARKK may be the most well-known ETF in ARK's stable, but investors looking for more targeted bets on key disruptive technologies can turn to the firm's four other active ETFs.
ARK Genomic Revolution ETF (ARKG)
ARK Next Generation Internet ETF (ARKW),
ARK Autonomous Tech & Robotics ETF (ARKQ)
ARK Fintech Innovation ETF (ARKF)
As summarised below, ARKG, ARKW, ARKQ, and ARKF each have their distinctive themes.
Another thing not many people may know is that ARKG and ARKW actually outperformed ARKK last year. You'll also notice the ARKW and ARKK have very similar top 3 holdings and almost the same exposure in their top technology focus.
Soon, investors can also look forward to a new ARK ETF that will invest in stocks related to space exploration. It will be called the ARK Space Exploration ETF (ARKX), according to a filing with the US Securities and Exchange Commission.
4: ARK ETFs are actively managed
While most ETFs are passive investments in the sense that they track the performance of a benchmark index, ARK's active ETFs have the opportunity to outperform the market through investment decisions made by their investment team.
For instance, if a stock's share price has fallen due to short-term market whims, ARK may buy the dip and increase its position if the fundamentals have not changed. If a stock is overhyped, ARK may sell to take profits. They may also exit investments to invest in other companies that they have relatively more confidence in.
This can be seen in how frequently ARKK's top holdings have changed.
Because of the relatively more intense research and analysis that goes behind these decisions, ARK ETFs do come with higher expense ratios of 0.75%. For comparison, Invesco QQQ's total expense ratio is only 0.20%.
Is the above-average expense ratio justified? The Frugal Fox thinks so, given the strong performance of ARK ETFs to date. In our view, the potential return you may get vastly outweighs the slightly higher expense ratio you'll have to pay.
5: ARK CEO Cathie Wood is a rockstar
A rockstar fund manager, that is. CEO Cathie Wood has a reputation for being right a lot, as evidenced from the phenomenal performance of her funds.
In 2018, she drew widespread skepticism for suggesting that Tesla shares could hit $4,000 in five years. She turned out to be spot on when Tesla stock surged more than 10-fold and split 5-to-1 in 2020.
Her experience speaks for itself too. She spent 12 years at AllianceBernstein as CIO of Global Thematic Strategies. That's where she came up with the idea of active ETFs based on disruptive technology. She pitched this to her then-CEO Peter Kraus who rejected the idea. Sticking by her guns, she quit to start ARK in 2014.
Today, you will see numerous TikToks with her image made by young investors who try to emulate her stock picks. Cathie Wood herself is also active on social media, which she credits for their success.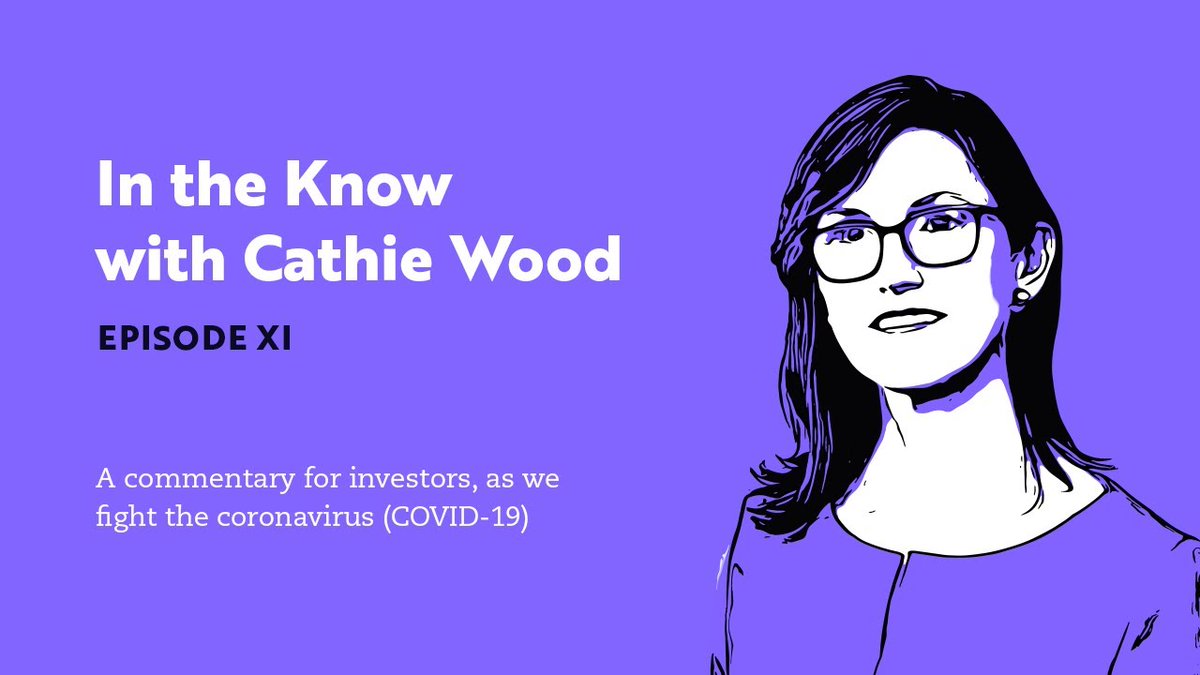 She and her investment team frequently use social media to connect with industry experts who can provide insights that may not even be found in trade journals.
An ARK analyst once asked on her personal Twitter why Xpeng is using lidar in their electric vehicle approach. Tesla's Elon Musk replied with the answer, just 11 minutes after her question.
That said, Cathie Wood is 65 years old this year. The success of ARK seems to rest solely on her shoulders. Should she need to step down as CEO, it remains to be seen whether ARK can still outperform without her.
What does the fox think?
Although past performance is no guarantee of future returns, The Frugal Fox thinks that ARK ETFs are well-positioned for 2021 and at least the next two to three years.
For one, ARKK does not seem to be a one-hit wonder. It has generated annual returns of 39% on average for the past five years.
We've invested in ARKK and are now considering ARKF. Transaction innovations, customer facing platforms, and frictionless funding platforms are the top growth drivers for ARKF. These all deal with cashless transactions, an already growing trend which accelerated during the coronavirus pandemic.
How to buy ARK ETFs
You can invest in ARK ETFs through any brokerage platform that allows you to trade US stocks. We used Tiger Brokers because we could receive a stock voucher of up to S$100 and 5 commission-free trades when we signed up using our friend's referral code.
If you're interested to switch to Tiger Brokers as well, do use our referral code to open your account!
Referral code: R1R4OP
You'll receive up to S$100 when you make a first deposit into your account of $30,000 or more. Bonus: You don't have to actually invest all your funds to qualify for the stock voucher. More details below!
Tiger Broker Referral Code: R1R4OP